What's New in Oxygen XML Web Author 24.1.0
Version 24.1.0 of Oxygen XML Web Author is the latest release for the innovative web-based XML authoring tool. This release expands upon the features that were recently added in Version 24.0.0 with further improvements to some of those features, along with several new enhancements. A new Search side-view makes it easier to find and replace content, @ mentions are now supported, performance was enhanced, new functionality improves customizations and integrations, and various security and component updates were implemented.
User Interface Improvements
Search Side View
A Search side-view was added to the interface. It makes it easier to see both the search UI and the document with results highlighted. Moreover, it makes it possible to see all search results at a glance without having to scroll through the document.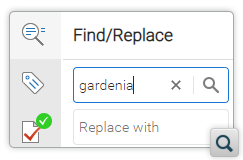 Support for @ Mentions in Review Comments
Web Author now supports @ mentions in review comments. When adding a comment, if you enter the @ symbol followed by a user name, you see the mention for the other person rendered in blue while the other person sees the new mention rendered in orange along with orange notification symbols so that it's easy to identify new mentions that are meant for them.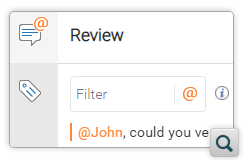 Tags Display Mode Switcher
A Tags Display Mode switcher was added directly in the breadcrumb bar to make it easier to change the amount of Tags that are displayed when exploring the document structure.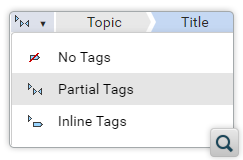 DITA Map Side View Available in Concurrent Editing
The DITA Maps side-view is now available during concurrent editing sessions. This side-view helps you to understand where the current topic is located inside the DITA Map, as well as offering the ability to navigate to a different topic.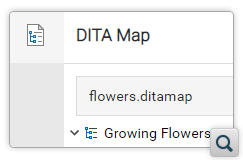 Customization and Integration
Link Directly to a Comment
A new
OXY-URL
anchor syntax was introduced to open an editor focused on a specific comment. This feature allows the email notifications for new comments to be more efficient for the users that receive them.
Open a File with Search Results Highlighted
URL parameters were added to enable you to open a document with highlighted search terms. This feature can be used to implement a search functionality across multiple files in an integration.
Control the Search UI to Use
For certain scenarios, users can choose to display a search dialog box instead of the Search UI. An example would be when the Web Author is embedded in another application and the available screen space is limited.
Security
Removed Dependency on Log4j
Removed the dependency on Apache Log4j to help prevent security vulnerabilities.
Performance Enhancements
Performance Improved When Opening DITA Maps with Content Expanded
Performance was improved when opening a DITA map with all of the referenced topic content expanded and editable. It now takes less time to open the map, even when it contains a large number of referenced topics.
Component Update
Apache Tomcat 9.0.59
Updated Apache Tomcat that is distributed with the installation kits to version 9.0.59.
Deprecated integrations
IBM WebSphere Application Server traditional
The support for using IBM WebSphere Application Server traditional to deploy the Oxygen XML Web Author Web Archive (WAR) distribution was deprecated for removal.